Love working for Select Recruitment?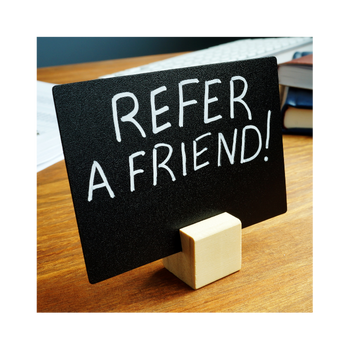 Tell your friends - we're always on the lookout for people as great as you, and you could pocket up to $250 in vouchers!
With over 40 years' experience recruiting roles across a range of sectors in Dunedin and beyond, chances are we will have job opportunities for them so they can love their work too!
Our opportunities
We have roles available requiring no experience, as well as skilled positions, long and short-term opportunities. Are they looking for part time or flexible shift work or maybe a steady Monday to Friday job is more their cup of tea?
How it works
Refer your friends to Select Recruitment and after they've been employed for a minimum of 50 hours, you'll receive a $50 voucher of your choice. When they have worked an additional 200 hours with us, you'll receive an additional $200 voucher.
You can choose from the following vouchers: Rebel Sport, Mitre 10, JB Hi-Fi, Event Cinemas, Hoyts Cinema or your choice of petrol voucher (Mobil, Caltex or Z).
To refer a friend, please email your friend's full name, phone number, and email address to info@select.co.nz. Just send us their details - we'll take care of the rest. Easy as!
You can refer as many friends as you like, so get your thinking caps on!
Terms & Conditions
1. This Promotion is run by Select Recruitment (Select).
2. By entering this promotion, you agree to be bound by these terms and conditions.
3. This promotion period runs until 31st December 2022. No referrals received after this date will be eligible.
4. The referral promotion is open to individuals currently employed by Select or have worked for Select within the 3 months prior to the date of the referral. Referrals must be made during the promotion period.
5. The referral reward is not redeemable for cash.
6. Referral rewards will be issued in the case of a temporary assignment a) after 50 hours of employment, successful referrers will receive a $50 voucher, and, b) after an additional 200 hours of employment, successful referrers will receive an additional $200 voucher. All timeframes outlined in this clause must be verified by our records.
7. One reward per successfully referred candidate will be issued. There is no limit to the number of referral rewards that may be issued, as long as all terms and conditions are met. In the event of multiple referrals received during the promotion period, for one person, the first referral only will be regarded as being the successful referral.
8. Successful referrers will receive a gift card / voucher with a value of $50 or $200. The successful referrer may choose from the following options: Rebel Sport; Mitre 10; JB Hi-Fi; Event Cinemas; Hoyts Cinema or petrol voucher (Mobil, Caltex or Z).
9. A Referred Candidate cannot be a currently active candidate in the Select database. A 'currently active' candidate means a candidate who has applied for a job, or been referred to a job vacancy, or has been in communication with Select within the last 9 months.
10. It is not the responsibility of Select to issue referral prizes where notification of the referral has not been provided. Select is not required to issue retrospective referral rewards for historic referrals more than 3 months after the candidates' placement where no notification was provided. It is the responsibility of the referrer to contact Select regarding the referral reward within 3 months of the referee's placement.
11. In the case where a referrer provides a referee's details to Select, the referee must have provided permission and be aware that they have been referred.
12. By entering this promotion, you agree to receive further communication via phone or email from Select.
13. Referrers and successful referrals may be contacted by Select to request details and photographs for promotional purposes.
14. Select will not, without permission, give out any personal information to third parties, as per our Privacy Policy.
15. Internal staff are excluded from this promotion.
16. All referral rewards are issued at the discretion of Select.